March 8, 2023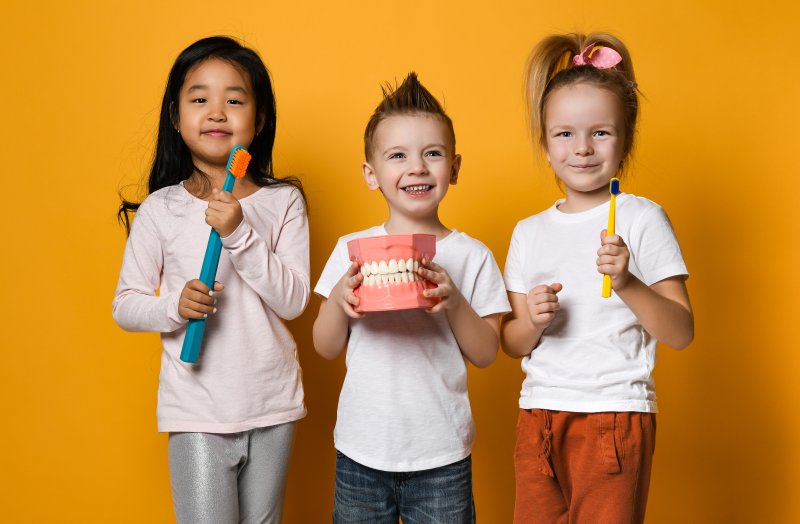 Is your child preparing for an upcoming visit to the dentist's office? You may notice that they feel a little unsure about how they should feel and what they can expect. If you need tips to ensure their appointment is a success, learn how dental toys can help keep them at ease while also getting them excited about taking care of their teeth.
How Can Toys Lessen the Chances of Anxiety?
Children often feel nervous or scared when it comes to going to the dentist. Between the sights, sounds, and smells, the idea of having someone poking and prodding inside their mouth can be a bit daunting. Fortunately, most children take to the idea of role-play quite well, which means incorporating age-appropriate, child-friendly dental toys can be a great way to turn their nervousness into excitement.
Not only are these toys educational and informative, but they're fun, too! These days, toy makers and manufacturers have kits and costumes that allow children to step into the role of a dentist while "operating" on others with some familiar instruments (i.e., toothbrushes, dental mirrors, scalers, etc.).
Through the art of play, these toys can be the initial spark your child needs to start taking better care of their teeth and gums when performing their oral hygiene habits at home. And who knows, they may even decide they want to become a dentist someday.
Dental Toys: What is Available?
No matter where you look, whether it is in a store or on the internet, you will find an endless list of dental toys that children can play with. From dressing up as a dentist to videos, books, and games, you will see the excitement build in your child's demeanor that will help create a more positive experience when visiting the dentist's office.
Some toys you can find on the market these days include:
Our Generation dolls that have braces (i.e., Camila and Imani)
Dentist Kit Play Set
Wooden Dentist Role Play Set
Dalmatian Simulation Dental Toy Set
Plush Crocodile with Teeth
Bendable Toothbrush Figures
Play-Doh Dentist Toy
Dental Teeth Care Model with Giant Toothbrush
Using toys is a great way to capture a child's attention and imagination. Not only will it help to diminish fear and stress, but it will help them to get excited when they meet the dentist for the first time.
About the Authors
Dr. James Forester is a board-certified pediatric dentist who completed his Doctor of Dental Surgery degree at the University of Pacific's Arthur A. Dugoni School of Dentistry in 2002. In 2006, he completed a postdoctoral program in Advanced Education in Pediatric Dentistry at St. Joseph's Hospital in Providence, Rhode Island. Alongside his colleague, Dr. Kristine Fu Shue, the two work together to help children get excited about oral hygiene. If you have a little one who has yet to visit the dentist, visit our website or call (805) 592-2020 to learn how we can help in preparing for their first appointment.
Comments Off on Preparing Your Child: How Dental Toys Can Help
No Comments
No comments yet.
RSS feed for comments on this post.
Sorry, the comment form is closed at this time.