February 3, 2023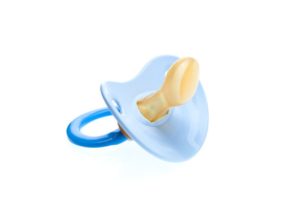 Many parents feel that pacifiers are something of a lifesaver; after all, they encourage self-soothing habits, aid in weaning, and can even reduce the risk of SIDS (sudden infant death syndrome). However, as beneficial as they can be for young children, excessive use can sometimes cause abnormal tooth development as well as other oral health issues. Here's more from your pediatric dentist about the curious link between pacifiers and dental problems, along with some tips for minimizing any potential concerns.
The Link Between Pacifiers and Dental Problems
For all their benefits, pacifiers do come with potential drawbacks that manifest as dental issues; in most cases, these issues are the result of overuse. One of the most well-known risks of pacifier overuse is bite misalignment including cross bites and open bites, among other issues. This is most common in older children who still use pacifiers, as the prolonged use may force a child's teeth to move. It can even change the shape of the roof of the mouth, in order to accommodate the constant presence of a foreign object.
In some extreme cases, pacifier overuse has even been linked to gingival recession, or gum loss, as well as pediatric cavities. However, these oral conditions are also a consequence of pacifiers being dipped in sweet substances; while children might love the tasty treat, the extra exposure to sugar isn't great for their teeth and gums!
Tips for Lessening the Impact of a Pacifier on Your Child's Teeth
There are several ways you can lessen the negative impact that pacifier use has on your child's smile. Consider the following tips:
Avoid pacifiers that aren't one-piece, have removable parts, or have liquid interiors. Also, be sure your child's pacifier is appropriately sized.
Clean your child's pacifier regularly and never dip it in sweet liquids.
Don't let your child share pacifiers with other children.
Break the habit when the time comes; most children should stop using pacifiers or sucking on their thumbs between the ages of two and four.
Consider an orthodontic pacifier; these are flatter than traditional options, to encourage proper jaw alignment.
Given their obvious benefits, you shouldn't be afraid of giving your child a pacifier. That said, you should be mindful of how often they're using their pacifier and the potential oral health consequences of overuse!
About the Practice
The team at Coastal Pediatric Dentistry is thrilled to offer a wide range of pediatric dental services to families in the San Luis Obispo, CA area. The practice is led by Dr. James A. Forester and Dr. Natalie Vander Kam. If you have any questions about the article or need to schedule a visit for a loved one, you can contact the practice online or over the phone for additional assistance: (805) 592-2020.
Comments Off on Do Pacifiers Affect the Development of Teeth?
No Comments
No comments yet.
RSS feed for comments on this post.
Sorry, the comment form is closed at this time.