Laser Dentistry – San Luis Obispo, CA
The Future of Dental Care is Now
Coastal Pediatric Dentistry is proud to provide the most advanced dental technology available in dentistry today. It's with that commitment to innovation in mind that we offer our patients restorative dental care using the Solea system, a powerful dental laser. Solea replaces the drill in the majority of restorative procedures in our dental office, helping our little patients get what they need in less time while also staying much more comfortable. With it, we can make sure a child is able to smile from check-in to checkout at every appointment.
Why Choose Coastal Pediatric Dentistry for Laser Dentistry?
Able to repair cavities WITHOUT any shots or drills
No Numbing Needed
Proven results & faster recoveries
What is Solea?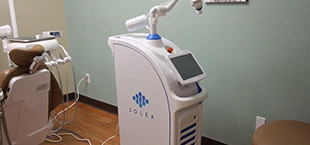 Solea is the first CO2 dental laser system cleared by the FDA for hard- and soft-tissue procedures. It offers a unique wavelength guided by sophisticated computers to deliver virtually painless dental procedures for both teeth and gums, from simple cavities to more complex surgeries. Aside from causing virtually no pain, Solea isn't associated with noise or vibration, either. Thanks to Solea, the majority of kids who come in for fillings and other restorative care do not need local anesthesia or sedation at all.
How will a laser benefit my child?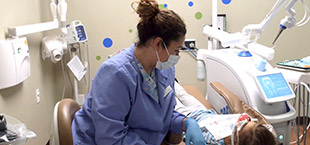 With Solea, we no longer need to numb our patients for routine restorative work, such as fillings. Under traditional methods of dentistry, children must be numbed using local anesthesia for these procedures. We have found that many children do not react well to having numbness, which can last for hours after the procedure. Even though they often do well for the procedure and the actually numbing, the lingering numbness and return of sensation can be quite uncomfortable. Furthermore, no kid likes the idea of getting a shot regardless of if it may be minimally sensitive. By using Solea, most children don't feel like they've had dental treatment at all.
Does it cost more to use the laser?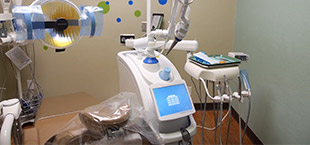 We implemented the laser into our dental office in 2015 for a simple reason -- because we believe our patients deserve the very best treatment available. As such, we do not charge an additional fee for using this technology. Our goal is to ensure that we are providing the most comfortable and highest level of care possible to help children develop a lifelong commitment to regular dental care. Laser dentistry helps!
Numerous Benefits of Laser Dentistry
The benefits associated with Solea are many. Some of the most significant advantages of laser dentistry include...
The majority of hard- and soft-tissue procedures are completed without local anesthesia (numbing), and soft-tissue procedures occur with virtually no bleeding.
Laser dentistry is incredibly precise and often is able to achieve a more conservative restoration.
Using the Solea laser is far less invasive than any cutting instrument, which makes healing time following a procedure much shorter.
When patients have local anesthesia they typically leave the dental office still feeling that numb sensation. With Solea, your little one will be able to go right to lunch or back to school without that numbness associated with dental work.
Virtually pain-free dentistry is possible with the super-concentrated power of the laser. Solea is truly changing what it means to go to the dentist!
Laser Frenectomy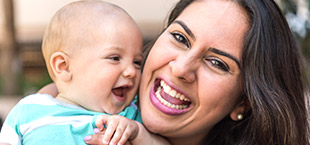 A frenectomy is the removal of a frenulum, a small fold of tissue that is present in the upper lip or underneath the tongue. When a frenulum is too tight, we call it tongue-tie or lip-tie. Tongue and lip-ties can cause issues breastfeeding, encourage decay, cause growth and development or orthodontic problems, and more as time goes on. Tongue and lip-ties occasionally can sometimes occur together and make it difficult for the baby to latch on during feeding.
The Solea laser has made it possible for Dr. Forester to quickly, painlessly, and effectively complete the frenectomy under the tongue or upper lip to allow for better range of motion -- for healthier babies and happier parents. After a frenectomy, an infant is fully able to latch and feed in the most efficient manner.