September 6, 2022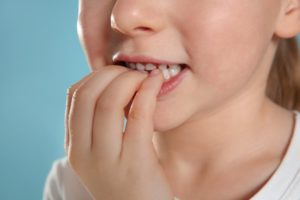 From birth through toddlerhood, your child explores the world around them by putting objects into their mouth. However, at a certain point, they no longer need to do this in order to experience new things. In fact, putting things in their mouth that aren't food or oral appliances can actually cause real harm like cracked teeth, painful cavities, or other dental emergencies.
What are some examples of things you should keep out of your child's mouth? Here are just five!
Ice
After finishing a cool drink, many kids enjoy chewing on the leftover ice. Even adults can struggle with this habit! However, it can easily create cracks in teeth, often leading to deep tooth infections, pain, or even the need for extraction and replacement. If you find yourself doing this, try to end this habit to set a good example and keep your child from doing it to protect their smile too.
Potato Chips
Acidic or sugary foods aren't the only ones that can erode tooth enamel. Starchy foods like potato chips and crackers break down in a similar way as sugar, meaning they fuel the bad bacteria that produce acids in the mouth. As a result, the risk of cavities rises when your child eats them. These types of foods are okay to have every now and then, but try not to make them a daily or frequent occurrence. If you do allow your kid to have potato chips, sugary foods, or other cavity-causing snacks, be sure that they drink plenty of water afterward to help rinse away plaque and bacteria.
Jewelry
For whatever reason, children frequently like to put jewelry inside their mouths. Perhaps it's the metallic taste or the interesting textures of the pieces, but these objects can have bacteria on them, increasing the chances of infections.
Fingernails
The habit of biting fingernails often develops early in life as a way to deal with anxiety or boredom, but it can introduce harmful bacteria to your child's mouth. Plus, it can lead to damage to their tooth enamel as well as the nails themselves. If you catch your little one chewing on their nails, gently remind them to stop and give them something else to do with their hands.
Someone Else's Toothbrush
Especially if you're traveling and forget to bring your child's toothbrush, it can be tempting to share a toothbrush with a sibling or parent. In your mind, you may be thinking it's better than not brushing at all, but the truth is that foreign bacteria could transfer from the toothbrush into your child's mouth.
Ultimately, you may not be able to control what your child decides to place inside their mouth, but over time you can help them learn to touch and play with objects with their hands instead. As a result, you teach them to keep their teeth in excellent working condition as they continue to grow and develop.
About the Practice
For more than 15 years, Coastal Pediatric Dentistry has offered kid-friendly, educational dental care for patients from infancy through 18 years old. Dr. James Forester and Dr. Natalie Vander Kam share a deep passion for instilling healthy habits in children for lifelong oral health. If you have questions about what you shouldn't allow your child to put in their mouth, you can reach your pediatric dentist in San Luis Obispo by calling 805-592-2020 or visiting our Contact Us page here.
Comments Off on 5 Objects to Keep Out of Your Child's Mouth
No Comments
No comments yet.
RSS feed for comments on this post.
Sorry, the comment form is closed at this time.