January 27, 2022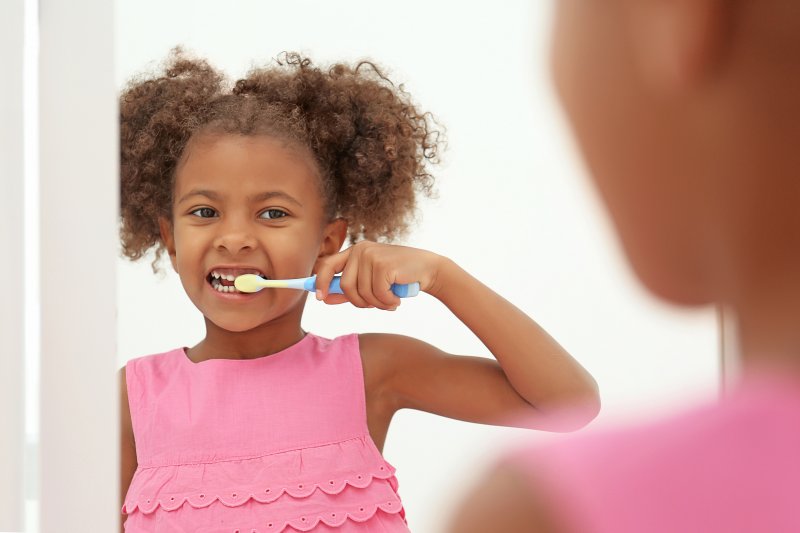 No matter how many kids you have, you may be wondering when it's the appropriate time for them to start brushing and flossing. Maybe with the first and second, you "winged" it," but now that you have another, you want to make sure you do it right. Your children's oral health in San Luis Obispo matters, so inquiring about this pivotal task is a positive first step. In this article, you'll learn how you can tell it's time to introduce your child to the necessity of brushing and flossing so their teeth and gums remain healthy and strong for years to come.
Time's Up: When to Introduce Brushing and Flossing
You may be surprised to learn that the first introduction doesn't come with a toothbrush. Instead, it comes in the form of a damp washcloth or clean gauze. Once your baby is finished feeding, you can use these to gently wipe their gums and eliminate any bacteria that will try to adhere to their soft tissues.
Once your child's first tooth erupts, you can use a small, soft-bristled toothbrush that comfortably moves inside their mouth. You'll need to use a smear of toothpaste (the size of a grain of rice) until they reach the age of three. Then, you can upgrade to a pea-sized amount of fluoride toothpaste. It's important that you brush their teeth twice a day, once in the morning and once at night.
When it comes to flossing, begin the process as soon as you notice two teeth are touching.
How to Help Your Child Get Excited About Oral Hygiene
This morning and nighttime routine may not always be exciting for children. But as you continue to help them maintain healthier teeth and gums, it is necessary to find ways that encourage and inspire your child to take responsibility for their own oral health.
You can do this by:
Allowing your child to pick their toothbrush once they're old enough, as well as their own toothpaste. There are many flavors available on the market, but just be sure it contains fluoride.
Purchasing kid-friendly flossing products that make this process easier. Using traditional dental floss may be difficult, but there are many different types of flossers you can find at your local drug store.
Turn their oral hygiene routine into a fun and playful time. There are endless kid-friendly dental apps available on smartphones or music you can play to keep your child engaged and working toward a healthier smile.
Read books that encourage your child to embrace better oral hygiene. You may also find it helpful to introduce books that discuss the benefits of visiting the dentist.
By incorporating these tips in your child's oral hygiene routine, you can keep them brushing and flossing and reaping the benefits year after year.
About the Author
Dr. James Forester is a board-certified pediatric dentist who completed his Doctor of Dental Surgery degree at the University of Pacific's Arthur A. Dugoni School of Dentistry in 2002. In 2006, he completed a postdoctoral program in Advanced Education in Pediatric Dentistry at St. Joseph's Hospital in Providence, Rhode Island. Alongside his colleague, Dr. Kristine Fu Shue, the two work together to help parents better protect their kid's smiles. Visit our website or call (805) 592-2020 to learn when it's the appropriate time to start your child's journey to better oral health.
Comments Off on When Should Children Start Brushing and Flossing?
No Comments
No comments yet.
RSS feed for comments on this post.
Sorry, the comment form is closed at this time.