November 25, 2021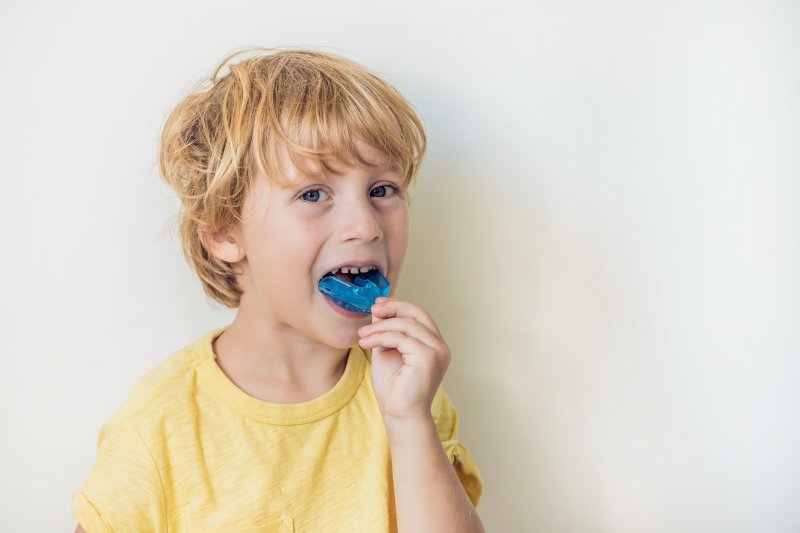 Is your child physically active in sports? Do they enjoy taking to the field, court, or track? If you're like most parents, you want to ensure they are equipped with appropriate protective gear, but you may not realize you're missing one vital component – a mouthguard. Here are three reasons you should talk to your child's pediatric dentist about having a customized protective mouthpiece created before their next game.
Mouthguards Absorb Hard-Hitting Impacts
No matter the sport, your child is always at risk for injury. Even in solo events (i.e., running track), your child can suddenly fall and chip or break a tooth. By choosing to wear a mouthguard, their teeth and gums may still experience a hard hit, but the impact will largely be absorbed by the mouthpiece. Instead of direct contact with their teeth, the mouthguard will spread out the force, preventing any tooth or area of soft tissue from being badly damaged.
Mouthguards Reduce the Frequency of Dental Emergencies
As the parent of a child athlete, you may worry about the cost associated with various dental emergencies. Because sports are often to blame for many of these injuries, your child's dentist's office may become a place you frequent more often. If you want to lower the number of emergency dental visits and instead, sit on the sidelines cheering your child on with greater peace of mind, inquire about a customized mouthguard. In having your little one wear it, they will not only keep their teeth intact, but they'll help you save money by avoiding regular visits to the emergency dentist.
Mouthguards Help Your Child Keep Their Natural Teeth
A customized mouthguard is highly effective at ensuring your child keeps their natural teeth. Experiencing a knocked-out tooth during a game will resort in one of two solutions: putting it back in place or replacing it. Depending on how quickly you seek help for your child, it may or may not be savable. If not, your child's dentist will need to discuss how to replace the tooth for the time being. Their age plays a large factor in the type of restoration they need. But you can simply avoid all this talk about replacement teeth by having your child wear their customized mouthguard.
Don't let your child leave home without proper mouth protection. In addition to the rest of their equipment, you can feel more confident knowing they can play with optimal peace of mind.
About the Author
Dr. James Forester is a board-certified pediatric dentist who completed his Doctor of Dental Surgery degree at the University of Pacific's Arthur A. Dugoni School of Dentistry in 2002. In 2006, he completed a postdoctoral program in Advanced Education in Pediatric Dentistry at St. Joseph's Hospital in Providence, Rhode Island. Alongside his colleague, Dr. Kristine Fu Shue, the two work together to help parents better protect their kid's smiles. With customized mouthguards, they can deliver comfortable and supportive oral appliances that provide an effective way to safeguard teeth and gums while engaging in sports activities. Visit our website or call (805) 592-2020 to learn how we can help.
Comments Off on 3 Reasons Your Child Needs a Customized Mouthguard
No Comments
No comments yet.
RSS feed for comments on this post.
Sorry, the comment form is closed at this time.