December 18, 2019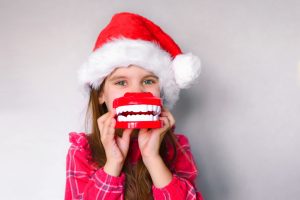 Your child has written out their holiday wish list—full of entertaining technology and toys, of course. Although you certainly plan on giving them some fun items, you also want to sneak in some presents that are good for them as well. Well, believe it or not, you don't necessarily have to choose between one or the other. There are some items that fit into both categories. Here are five holiday gifts for young healthy teeth that should be on your shopping list this year.
Mouth-Friendly Stocking Stuffers
When your child is young, you'll use every trick in the book to make brushing an effective experience every day or at least reduce the struggle. To accomplish this, you can find toothbrushes with your child's favorite character on them either at the store or online. That way, they may look forward to brushing every day, at least initially. You could also wrap up some flossers, which help make flossing much easier for children and teens alike.
Electric Toothbrush
For many kids, technology is the key to a good holiday gift. You can give your child an electric toothbrush and truly make this daily task more efficient and simpler for them. Some electric toothbrushes for kids have interactive functions or play music to teach children to brush for a full two minutes each time. Or you could download kid-friendly dental apps that make brushing more entertaining, fun, and rewarding.
Sports Mouthguard
Does your child play sports? You can get them pumped up for the season and protect their smile with a sports mouthguard. Keep in mind that many mouthguards at the stores are one-size-fits-all, which can feel uncomfortable. Others are moldable, but your pediatric dentist can provide a custom appliance that fits well, ensuring that your child will actually wear it come game time.
Dental Health Travel Kit
If you're traveling this holiday season or planning a trip in the near future, you could give your child a small travel kit specifically for them. With their own little toothpaste, toothbrush, and floss, it'll be easier to encourage them to continue healthy oral habits even when they're away from home and their normal routine.
Dental Health Kids Books
Early dental visits can be a new, nerve-wracking experience for any child. However, there are hundreds of children's books that help young readers overcome their dental anxiety and understand the importance of these visits. From Little Critter to the Berenstain Bears, beloved characters can show your child that going to the dentist isn't something they need to fear.
Taking care of your child's teeth doesn't have to be a tedious daily task for you both. When you make oral health fun, you make it easier for your child to stick to important habits that will keep their smile bright and strong for years to come.
About Coastal Pediatric Dentistry
Coastal Pediatric Dentistry makes dental visits and oral care a rewarding experience for children ranging in age from infancy all the way through teen years. Dr. James Forester and Dr. Kristine Fu have years of experience working with young patients and know how to teach healthy oral habits early on. If you have questions about dental health or gift ideas, you can contact Coastal Pediatric Dentistry by calling (805) 592-2020 or clicking here.
No Comments »
No comments yet.
RSS feed for comments on this post.
Leave a comment