January 16, 2020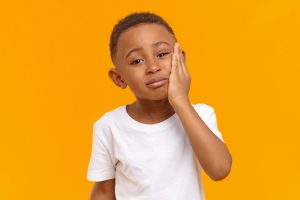 While you and your child play a game together, you watch them laugh and smile with delight. You could look at that sight for hours. But did you know that you or they may be doing things that make it easier for cavities to damage their smile? In this post, you'll learn what causes children's cavities and what healthy habits you can implement into your lifestyle to prevent them.
Avoid Brushing Twice Every Day
One of the fastest ways to give your child a cavity is to stop brushing their teeth. This habit may seem simple and small, but it has a huge impact when it comes to dental health. Your child's mouth produces a white, sticky substance called plaque, which consists of bacteria, food particles, and saliva. When plaque adheres to teeth, it allows the bacteria to have direct access to the surface and cause decay. Brushing their teeth twice every day clears away most of the plaque in their mouth, safeguarding their teeth.
To care for those areas that are more difficult to clean, floss at least once a day. Also, be sure to take your child to their pediatric dentist every six months for a checkup and cleaning.
Eat Sugary Foods
Cookies, candy, donuts, bread, and other such foods may be a yummy treat, but these can be dangerous for your child's smile. The bacteria that cause cavities love sweet, starchy foods just as much as your little one. Unfortunately, they use the sugar as fuel and go into overdrive producing toxic acids that erode tooth enamel. If you limit your child's sugar consumption, you help to stop these bacteria, and therefore cavities, from wreaking havoc on their smile.
On the other hand, there are loads of foods that are actually good for your child smile, and they just so happen to be good for their body as well. Fruits and vegetables with high fiber content, such as broccoli, apples, and carrots, increase saliva production, which helps to get rid of bacteria and food particles. Others contain higher concentrations of water, like pears, celery, and cucumbers, to rinse the mouth.
Drink Anything But Water
Just as you need to be care about the food your child eats, you need to keep an eye on the beverages they drink to keep cavities away. Some drinks are obviously bad for their teeth, like soda, but others can be disguised as healthy. For example, your child may ask for juice throughout the day, but many juices contain just as much sugar as a can of soda. Energy and sports drinks are also marketed as being healthy, but they can have loads of sugar as well. The best beverage choice you can make for your child's smile is water. Milk or juice is fine during mealtime, but be sure they drink water after they're finished to help wash away the sugar and bacteria.
In the end, you wouldn't intentionally sabotage your child's smile, would you? And yet throughout the day there are many opportunities to make better choices to protect their teeth from decay. By putting their dental and overall health first, you can make sure their smile stays bright and happy for years to come.
About the Practice
At Coastal Pediatric Dentistry, Dr. James Forester and Dr. Kristine Fu provide compassionate, comprehensive dental care to children and teens. Although they prefer to help growing smiles stay healthy and cavity free, and they are happy to treat cavities and other problems and get young patients back on track. If you have questions about preventing tooth decay, you can contact Dr. Forester or Dr. Fu at Coastal Pediatric Dentistry.
No Comments »
No comments yet.
RSS feed for comments on this post.
Leave a comment