November 18, 2019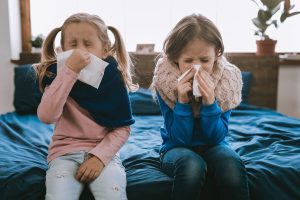 It's that time of year again—time for the flu to go around your kid's school. Even with a flu shot, your child can easily get sick, which means that they'll need lots of rest. Unfortunately, while your child naps and takes it easy for a few days, the bacteria that cause cavities and gum disease are hard at work trying to wreak havoc on your child's smile. In this post, you'll learn five flu season tips that you can do to ensure that your child's illness doesn't also damage their oral health.
Brush and Floss Well
Even if all your child wants to do is sleep after eating, it's important to keep up with their oral hygiene while they're sick. Be sure that they brush for at least two minutes twice a day and floss once a day. That way, you and your child won't have to deal with a cavity or another oral infection on top of trying to recover from the flu.
Drink Water
When your child has the flu, their body uses extra fluids in order to fight the infection, which means that staying hydrated is critical to overcoming illness. In fact, dry mouth commonly occurs during sickness, leaving not only an uncomfortable feeling in your child's mouth and the potential for bad breath but also less saliva to rinse away cavity-causing bacteria. Although water is the best option for hydration, soup can also be helpful in giving your child's body needed fluids.
Gargle with Salt Water
If your child is old enough, you can have them gargle with salt water. Just one tablespoon of salt mixed with a glass of water can help keep plaque in check while your child is feeling down. This quick solution reduces the number of harmful bacteria, helping their smile stay healthy despite them having the flu.
Throw Away Your Child's Toothbrush
When your child shows signs that they are starting to feel better, it is time to toss their toothbrush. After all, it has bacteria that can reinfect your child. Hopefully, it coincides with when you would normally switch out their toothbrush every three or four months, but even if it doesn't, be sure to get rid of the toothbrush to help them recover and stay healthy after the flu.
Choose Your Medications Wisely
Many medications and cough drops include sugar to make them taste better. However, this added sugar can fuel bacteria that harm your child's teeth or gums. Try to look for medicine that contains xylitol or sucralose instead. If your child does take medicine that is sweetened with sugar, be sure to brush or rinse their teeth afterward.
While you take every effort to make sure that your child recovers from their physical ailment, spare a little bit of your attention for their oral health. By taking these small steps while your child is sick with the flu, you can prevent the damage and potential pain that cavities can cause.
About Coastal Pediatric Dentistry
At Coastal Pediatric Dentistry, Dr. James Forester and Dr. Kristine Fu are board certified with the American Board of Pediatric Dentistry. The entire team creates a welcoming, family-friendly environment for children to have positive dental experiences. If you have questions about maintaining your child's oral health during sickness, you can contact Dr. Forester or Dr. Fu by calling or clicking here.
No Comments »
No comments yet.
RSS feed for comments on this post.
Leave a comment