July 22, 2019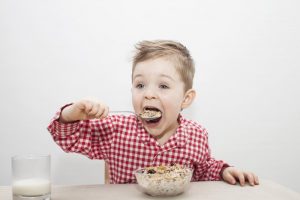 As a caring parent, you try to help your child learn healthy habits. Sure, Goldfish and pretzels are in your bag, but you also give them healthy snacks—or so you think. Believe it or not, there are some foods that may be causing harm to your child's precious smile. Although some are obvious, like gummy candy, others are rather unexpected. In this informative post from your pediatric dentist, you'll learn about six foods that are marketed as healthy but that could cause tooth decay for your child.
Highly Acidic Fruits
Harmful bacteria create acids the erode teeth's protective outer layer called the enamel. The sugars and acidic foods in your child's diet fuel these bacteria, increasing the threat against their teeth.
The most well-known culprit of acidity is citrus fruit, such as oranges, lemons, and grapefruit, but other acidic fruit that can impact your child's oral health include pineapples, strawberries, and blueberries.
Granola
Although it's a good source of fiber, granola can have a high sugar content. Be sure you take a close look at the nutrition label to find granola that can give you all the health benefits without an egregious amount of sugar.
Sports Drinks
Sports drinks and enhanced water may be marketed as a healthy beverage, particularly following a workout, but the truth is that they cause more significantly more harm than good. In fact, just one 20-ounce bottle of Vitamin Water has more sugar than the amount that is recommended for adults in an entire day. Instead of giving your child a Gatorade or Vitamin Water, give them normal water with no calories and sugar.
Dried Fruit
At first glance, dried fruit may seem like a healthy snack option. However, when the water content is removed from fresh fruit, it hikes up the sugar levels and number of calories per serving. Instead of getting dried fruit, give your child fresh fruit. That way, they can have the full health benefits of these sweet, nutritious foods.
Trail Mix
In addition to the dried fruit that is often found in trail mix, this snack often has added sugar in the form of chocolate or candy pieces. Others include flavoring that can contain sugar. When you buy trail mix, just make sure that you avoid the kinds with extra sweets.
Smoothies
Smoothies can be a great way to get nutrients from fruit and yogurt, but you should be careful about what kinds of fruit go into the blender. Try to avoid fruits that have a lot of sugar in them, such as cherries, mangoes, figs, grapes, and pomegranates.
If you're guilty of giving your child these foods, don't worry! You can make adjustments in your child's eating habits to reduce the corrosive acids that their teeth have to withstand. In the long run, making smarter choices in their diet can help them preserve their natural smile for a lifetime. For more ideas for caring for your child's smile, contact your pediatric dentist!
About the Author
As a child at heart, Dr. James Forester has been practicing in the central coast since 2007. After he completed his DDS degree at the University of Pacific's Arthur Dugoni School of Dentistry in San Francisco, he practiced as a general dentist for two years before completing a postdoctoral program in Advanced Education in Pediatric Dentistry at St. Joseph's Hospital. To learn more about him, visit Coastal Pediatric Dentistry's website or call (805) 592-2020.
No Comments »
No comments yet.
RSS feed for comments on this post.
Leave a comment