June 22, 2019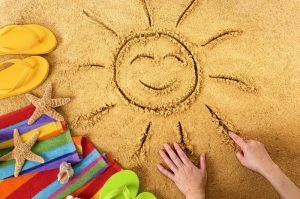 It's summer! The kids are home from school and are excited to relax and have some fun. What great adventures do you have planned for your family? A dental emergency is likely the last thing you expect or want to have happen to your child this summer. The good news is that there are steps you can take to prevent a dental emergency from spoiling your plans. Here are five tips from your pediatric dentist for having a safe, less stressful summer!
Maintain a Healthy Oral Routine Daily
Your kid may be on vacation, but the harmful bacteria in their mouth aren't. It's important to keep up with a healthy oral routine on a daily basis. Make sure your child brushes twice every day for two minutes at a time and flosses once a day. These simple actions can keep plaque from building up on your child's teeth and causing painful tooth decay.
Visit Your Child's Dentist Every Six Months
Summer is a great time to visit the dentist. That way, you don't have to take your child out of school! These semiannual appointments play a critical role in your child's oral health. Not only does the dental cleaning take care of any plaque or tartar they might have missed on their own, but their checkup also allows the dentist to catch problems early on—before they have the chance to develop into big, painful issues down the road. If it's been a while since your child's last visit to the dentist, schedule it now!
Give Your Child a Mouthguard
Many dental emergencies result from sports injuries. Therefore, if your child plays contact sports, including football, basketball, or hockey, make sure they wear a mouthguard to protect their teeth. This small appliance can prevent your child's teeth from getting chipped, fractured, or even knocked out completely. Even for risky activities like skateboarding, wearing a mouthguard can keep your child's teeth protected.
Help Them Avoid Bad Oral Habits
Does your child like to open packaging with their teeth? Do they tend to chew on pencils or crunch ice? Well, these small habits can have big consequences for your child's smile down the road. Chewing on hard things can wear down the enamel, weakening their teeth and increasing the chances of a dental emergency. If you catch them doing these things, gently remind them to stop so that they don't damage their teeth.
Have a Plan
Sometimes, despite all efforts to avoid them, dental emergencies still happen. Although you can't plan when or how one will occur, you can prepare yourself so that everyone can be more calm when it does. Your first action should be calling your pediatric dentist's office. They can get your child on the schedule as soon as possible and provide advice for handling your specific situation.
Your kid will likely remember their childhood summers for years to come. By taking these steps, you can make sure that their memories of this summer are as positive and pain free as possible.For more advice about dealing with dental emergencies, contact your child's dentist. Have a happy, safe summer!
About the Author
Dr. James Forester is a board-certified pediatric dentist and has been practicing on the Central Coast since 2007. Although he is a diplomate with the American Board of Pediatric Dentistry and a fellow with the American Academy of Pediatric Dentistry, he is a child at heart and loves interacting with his young patients. To schedule an appointment with him at Coastal Pediatric Dentistry, you can call (805) 592-2020 or click here.
No Comments »
No comments yet.
RSS feed for comments on this post.
Leave a comment