November 22, 2018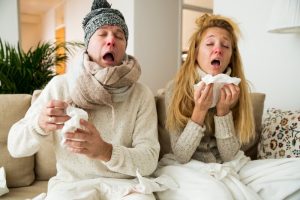 While it is the most wonderful time of the year with the holidays upon us, let's not forget that it's also flu season. If you are under the weather, your teeth may be the last thing on your mind. However, if you follow these simple flu season tips from your dentist, you can keep your mouth and teeth healthy during flu season and beyond!
Keep Brushing
Although you may feel exhausted when you're sick, it is essential to keep brushing and flossing your teeth daily per your normal routine.
Throw Your Brush Away
Once you start to feel better, be sure to throw your current toothbrush away, or change to a new brush head on your electric toothbrush. This will ensure that you don't reinfect yourself due to bacteria or germs that are harbored in your old toothbrush.
Stay Hydrated
Drinking a lot of liquids when you're sick helps to eliminate your illness, but did you know that it's also beneficial for your mouth? Dry mouth is typical when you're sick because it can become difficult to breathe through your nose.
Saliva plays an integral role in controlling the bacteria in your mouth, so when there's not enough of it, your mouth can be susceptible to the bacteria and acids that cause tooth decay.
Beware of Sugar-Filled Medicine
Often the over-the-counter medicines or cough drops can be laden with sugar. Look for sugar-free cough drops, especially since they linger in your mouth as you suck on them. If your medicine is not sugar-free, be sure to brush your teeth or rinse shortly after taking them.
Use a Warm Salt-Water Rinse
You can gargle with a warm salt-water rinse to help reduce the harmful bacteria in your throat and plaque in your mouth. Mix one tablespoon of table salt with eight ounces of warm water to create the solution. Be sure to spit until all the solution is gone.
Do you have other questions or concerns about keeping your teeth and mouth healthy during flu season? Contact your dentist today for more helpful hints and information.
About Coastal Pediatric Dentistry
Dr. James Forester is your partner in helping your child achieve, maintain, and understand the importance of exceptional oral health. And he makes learning about oral health fun for your child! You will always find an upbeat atmosphere at Coastal Pediatric Dentistry, and we look forward to taking care of your son or daughter for many years to come!
If you would like to contact Dr. Forester, he can be reached through his website or by calling 805-592-2020.
No Comments »
No comments yet.
RSS feed for comments on this post.
Leave a comment