December 4, 2018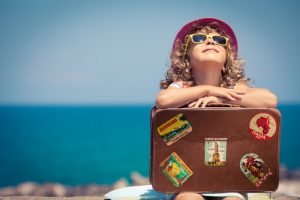 Dental emergencies are stressful, even more so when your family is traveling! While you can never quite prepare yourself for an emergency situation, it is good to have an understanding of what your options are when you are on the road. Here are some tips from your pediatric dentist on how handle dental emergencies when you're abroad.
Finding a Dentist
It is always wise to contact a dentist first before heading to an emergency room. Most hospitals are not equipped to handle dental emergencies, so it will save you time, stress, and money to start by contacting a local dentist. We also always encourage our patients to call our office and possibly e-mail us a photo of the issue so we can help you determine the best course of action. We may even have a recommendation for a dentist in the area in which you are traveling.
If you are visiting family members, you can ask for a recommendation for an emergency dentist from them. If you are abroad, look for a dental emergency hotline. This number is likely to lead you to provider who can help manage your situation.
If you purchased travel insurance for your trip, you can contact your provider to find a local dentist that accepts your coverage. A hotel concierge may also be a valuable resource for a dental referral.
Prepare Before You Travel
One of the best ways to avoid an emergency situation while traveling is to prepare beforehand. Some precautions you can take for your trip are:
Have a checkup before leaving: Visit your dentist for routine preventive care before you leave. A cleaning and checkup allows your dentist to alert you about any concerns such as tooth decay that could turn into more significant problems when you travel.
Bring the right tools: Don't forget to bring your toothbrush, dental floss, and mouth rinse so you can stick to your normal routine while you travel. Also, having some over-the-counter pain medications may be helpful if you run into a problem.
Watch your diet: You are more likely to indulge in foods you would not normally eat when you're on a trip. While it's fun to try new foods, it's also important to be wise about what you're eating. Hard and sticky candies could cause problems such as fractures or broken restoration, while acidic foods and beverages could wear away enamel and contribute to tooth sensitivity.
Returning Home
Once you are home, it is a good idea to follow up with your regular dentist and schedule a follow-up exam. You should also have any x-rays or records that were taken while traveling sent to your dentist.
If you have questions or need more information while your family is out and about, you can always contact your pediatric dentist for helpful tips and answers to your questions.
About Coastal Pediatric Dentistry
Dr. James A. Forester and his team welcome your family to Coastal Pediatric Dentistry! We have a passion for working with children, and our primary goal is to make their experience pleasant and stress-free every time they visit.
If you would like to learn more about the services we offer and how we can help your child, our team can be reached by calling 805-592-2020 or through our website.
No Comments »
No comments yet.
RSS feed for comments on this post.
Leave a comment