October 21, 2018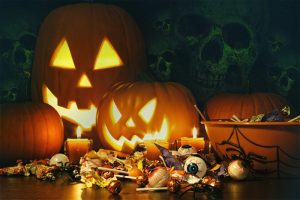 It's that time of year again where your little ghosts and goblins take to the streets! Halloween brings with it fun activities, fancy costumes, and of course – candy. How can you protect your family from the damage caused by tooth decay and cavities? Here are some helpful tips to follow from your pediatric dentist so your family can have a safe and healthy Halloween.
Eat Candy With Meals
Instead of snacking on candy all day long, eat your treats with meals. Your mouth produces the most saliva while you're eating, which helps to clear it of excess food particles.
Choose Your Treats Wisely
Certain candies cause more damage to your teeth than others. Here are the worst culprits:
Sticky candies cling to your teeth and tend to be around longer than they should.
Hard candies present a double edged sword because sucking on them gives sugar a longer opportunity to decay your teeth, while biting them can cause a crack or fracture.
Sour candy is a double whammy for your teeth because it is both sugary and acidic.
Chocolate is your best choice, and dark chocolate has even less sugar than milk chocolate.
Drink More Water
Water helps to eliminate extra food and candy particles that tend to hang around in your mouth after eating meals or candy. Additionally, it also keeps your body hydrated and your mouth moist.
Consider Donating Your Candy to Those in Need
Does your children's dentist offer a candy take-back program? Did you know there are also other organizations that send candy overseas to military troops?
Coastal Pediatric Dentistry is offering a candy buy back program on November 1st and 2nd. Contact our office for more details.
Consider having every member of the family choose a couple of pieces of their favorite candies – then donate the rest.
No Candy Before Bed
Don't forget to brush your teeth before bed, even after a late night of trick-or-treating, and don't eat any candy after that. Sleeping with sugar on your teeth increases your risk for developing tooth decay and cavities.
Stick to Your Normal Hygiene Routine
Did you know that you can get cavities in between your teeth? Especially when you're eating sticky candies.
Be sure you are being diligent about brushing at least twice each day and flossing at least once.  Sticking to your normal routine will help eliminate the bacteria, sugar, and acids from your mouth that cause decay.
If you need more tips on having a happy and safe Halloween, contact your pediatric dentist today for more information.
About Coastal Pediatric Dentistry
Dr. James Forester loves working with children and it shows! He's been taking care of little ones in San Luis Obispo for over a decade and kids look forward to their dental visits at Coastal Pediatric Dental because the atmosphere is fun and upbeat.
If you would like to contact Dr. Forester, he can be reached by calling 805-592-2020 or through his website.
No Comments »
No comments yet.
RSS feed for comments on this post.
Leave a comment