August 19, 2018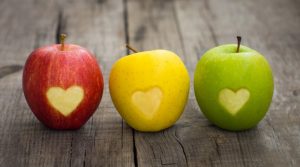 It can be challenging to feed your children, especially when you're dealing with picky eaters. It's even more difficult when you find out that foods you thought were healthy, are not great for your little one's teeth or oral health. Your pediatric dentist explains what to watch out for and some alternatives to consider.
Dried Fruit
Dried fruit seems like a healthy alternative to the gummy fruit snacks that are marketed towards children, right? While dried fruit does have fiber and vitamins that fruit snacks don't have, they are also still very sticky.
The problem with sticky foods is that they linger on teeth a lot longer than they should, which allows the sugar they contain to have more opportunity to fuel the bacteria that causes tooth decay.
Think about offering your child fresh fruit instead of dried fruit.
Crackers
Pretzels, fish crackers and the like seem like a better choice than cookies for a snack – right? Unfortunately, starchy snacks turn into a paste-like substance when mixed with your child's saliva, which makes it easier for these items to stick to your teeth and coat them. These carbohydrates then convert into sugar, and we're back to square one with allowing opportunities for tooth decay.
Try a complex carbohydrate such as oatmeal or whole-grain toast as a snack.
Fruit Juices
Choosing a healthy fruit juice for your child to drink has to be better than soda, right? Believe it or not, some fruit juices are just as harmful to your child's teeth as soda.
Because fruit juices are both sugary and acidic, it presents a double whammy for your teeth. Acidic drinks break down tooth enamel to cause cavities, while sugar is the fuel that does the same thing.
Water is the healthiest beverage for your child to drink throughout the day, and it will keep them hydrated as an added benefit.
Do you have more questions about how your little one's nutrition affects their oral health? Give your pediatric dentist a call today for more information.
About the Author
Dr. James Forester loves kids! As a father himself, he's passionate about helping children learn about their oral health, which sets them up for success as adult dental patients. Your child will feel safe and welcome when they visit Coastal Pediatric Dentistry, and we hope that they will also look forward to their visits.
If you would like to contact Dr. Forester, he can be reached through his website or by calling 805-592-2020.
No Comments »
No comments yet.
RSS feed for comments on this post.
Leave a comment