August 24, 2017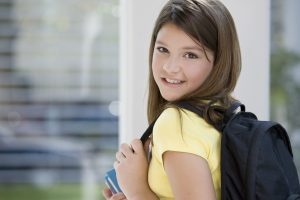 Back to school is either here or right around the corner for most students and you are probably focused on new backpacks, clothes, and school supplies. A dental cleaning and checkup for your child is perhaps the last thing on your mind right now, but your pediatric dentist in SLO wants you to know that this is the ideal time to schedule your child.
Avoid Missing School
If your child has already started school, we do offer convenient after-school appointments at Coastal Pediatric Dentistry. By bringing them in now for preventive care, you may be able to avoid any painful issues and time missed at school in the future. At their routine cleaning and checkup, we'll screen them for problems such as tooth decay and cavities. If we detect cavities early on, you'll be able to treat them with a less invasive filling that can sometimes be completed the same day.
Some Additional Services
We may also recommend fluoride treatments for your child. Fluoride helps to remineralize teeth affected by decay or cavities; it's also helpful for strengthening developing teeth. Fluoride can be applied to your child's teeth after they are cleaned, you can also choose toothpaste and mouth rinse with fluoride at home for them.
Dental sealants are a thin protective coating applied to the chewing surfaces of your child's teeth. Sealants protect their teeth from the acids and bacteria that cause tooth decay. This is a quick, non-invasive procedure that can be completed in one appointment at our office.
Mouth Guards for Sports
If your child is participating in sports, Dr. Forester can discuss the right protective wear for them with you at your preventive appointment. We can create custom mouth guards here at our office for your child, which offer better protection that generic guards purchased at the sporting goods store, which may not fit properly.
Contact Coastal Pediatric Dentistry
Whether your child has already started school or not, now is the best time to bring them in and get them on the road to optimum oral health for the school year ahead. Give us a call today to schedule their next appointment.
No Comments »
No comments yet.
RSS feed for comments on this post.
Leave a comment