September 20, 2017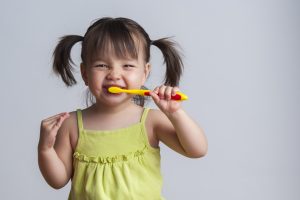 Your little one's first teeth have arrived! It's an exciting time as they learn to enjoy and navigate new foods. It's also a confusing time, as you have to figure out how to care for these new teeth. Dentists recommend cleaning your infant's gums with a gentle cloth prior to the first tooth erupting, and then begin brushing your child's teeth as soon as they arrive, but what kind of brush should you use? Here are some tips from your pediatric dentist on finding the right first toothbrush.
Choose Soft Bristles
Choose a brush with soft rounded bristles for your child. This is also good advice for adults as well. Soft bristles protect delicate gum tissue from injury, and the rounded shape protects gums and sensitive teeth.
A Smaller Size
Look for brushes designed specifically for children. These will be smaller and should fit easily between their back molars and cheeks. Most children's toothbrushes are sized appropriately for different ages.
A Comfortable Handle
Making sure the handle on your child's toothbrush is comfortable for them will help them brush for the recommended two minutes. A rubber grip on the handle makes it easier to grasp.
While you will need to actually brush your child's teeth for them until at least age 6, it is a good idea to get a brush they are comfortable with and enjoy using so they can start to learn how to brush in a fun and playful manner.
When to Change the Toothbrush
A good rule of thumb for both adults and children is to change a toothbrush every three months. You'll know it's time when the bristles appear worn and frayed. When a toothbrush becomes worn, it loses its effectiveness, so be sure to change your brush even if it hasn't quite lasted for a full three months.
It is common for infants to chew on their brushes and thus wear them out quickly, so brushes may need to be changed more often when the child is younger.
Another time to change out a toothbrush is if your child has been sick. Bacteria can hide in the brush and even on the handle, which can prolong sickness or cause it to return even after your child gets well. Be sure to change their toothbrush as soon as they are well.
If you have any other questions about your child's oral health, your pediatric dentist is a great resource.
About Coastal Pediatric Dentistry
For over a decade, Dr. James Forester has been taking care of the dental needs of children in San Luis Obispo. His passion for working with kids led him to become a pediatric dentist in 2004 after practicing general dentistry for two years. He provides a wide range of services for children, including options for dental sedation for patients who are fearful.
If you have questions about your child's oral health you can reach Dr. Forester at 805-592-2020 or through his website.
Comments Off on Your Pediatric Dentist Explains How to Purchase Your Child's First Toothbrush
No Comments
No comments yet.
RSS feed for comments on this post.
Sorry, the comment form is closed at this time.