June 1, 2017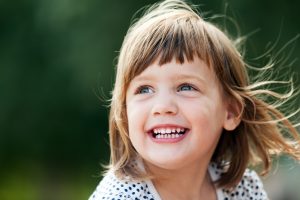 You've watched your child at the playground a thousand times before, so it's easy for you to tell that something is a bit off today. They don't seem to be enjoying themselves as much as they usually do. During the car ride home, you ask them if everything is OK. As soon as they look up at you, you know everything isn't ok, even before they say, "My tooth hurts!" When you get home, you immediately take a look in their mouth. You're suddenly filled with a basic question, "How do I know if my child has a cavity?" Cavities are very common for young children, so it's useful for parents to know how to spot them early. Today, your friendly-neighborhood pediatric dentist in San Luis Obispo, Dr. James Forester, is going to answer this basic question, and let you know how to avoid more cavities in the future.
How To Spot A Cavity
A cavity is what occurs when plaque has eaten away a portion of a tooth's enamel, and this plaque is created when the naturally occurring bacteria in a person's mouth consumes the leftover food on the teeth. Brushing and flossing every day are intended to get rid of this plaque, but between many children's unwillingness to brush consistently and their preference for sugary snacks, cavities can happen quite often.
Your child might have a cavity if:
They experience dental pain
One of their teeth is more sensitive than usual
You can see pits or holes in their teeth
One of the teeth has a black or brown spot on it
They experience pain when biting down
If your child shows any of these signs, be sure to contact us as soon as you can! The earlier we're able to catch a cavity, the easier treatment will be.
How To Avoid Future Cavities
Just because many children get cavities doesn't mean that they are inevitable. Just by following these simple tips, you can keep your child cavity free for years to come:
Have them brush at least twice a day for two minutes each
Make sure they floss at least once a day
Have them drink water whenever they are thirsty
Give them healthy snacks as opposed to chips, candies, sodas, and juices
Bring them in for a regular dental appointment at least twice a year
With proper care at home and routine checkups with their dentist, you'll be preventing cavities on all fronts. You'll minimize their exposure to harmful sugar, they'll clean off plaque every day, and our team at Coastal Pediatric Dentistry will make sure everything is looking great at their regular appointments.
Help Your Child Join Our "Cavity Free Club!"
By following these tips, you can make sure that your child is completely cavity-free at their next checkup. Our office actually has a special "Cavity Free Club" just for kids who do a great job of taking care of their teeth between appointments, and if you'd like to learn more about how they can join, be sure to contact our office today.
Comments Off on How to Avoid Cavities with Your Pediatric Dentist in San Luis Obispo
No Comments
No comments yet.
RSS feed for comments on this post.
Sorry, the comment form is closed at this time.