June 14, 2023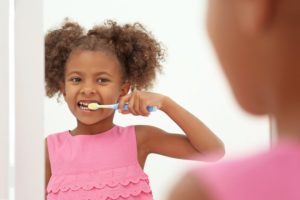 One thing all parents have in common is that as soon as they have children, they start worrying about things they never would have given a second thought otherwise. A subject that consistently elicits a lot of debate online is fluoride. Should a very young child be exposed to fluoride? Will doing so affect their mental or physical health negatively? Do they need to drink fluoridated water and brush with fluoridated toothpaste? Find out the answers to these common questions and more in today's blog.
Fluoridated Water
Local and national governments have been adding fluoride to public water since the 1940s, and it is largely considered to be one of the greatest public health victories in history. Despite countless studies showing that it is perfectly safe for people of all ages and dramatically reduces the risk of cavities, some parents still worry about how it could affect their children.
This study published in the Journal of Dental Research in October 2022 looked at how exposure to fluoridated water affected children throughout their development, from five years old to just before they turned 18. A total of 2,682 children had their mental, emotional, and executive functioning analyzed in comparison to how much fluoridated water they were exposed to. Researchers concluded that fluoride had absolutely no negative impact on the young subjects. This example is just one of hundreds of high-quality studies published over the decades that allow people to draw the same conclusion—when it comes to fluoridated water, parents can't go wrong.
Fluoridated Toothpaste
As soon as a child gets their first tooth, it should be brushed with a fluoridated toothpaste. Of course, some parents believe that if their child swallows the toothpaste instead of spitting it out, this can cause all sorts of health issues. The truth is that if parents use the recommended amount of toothpaste (a grain of rice for infants, a pea for toddlers), then it largely doesn't matter if the child swallows the toothpaste.
Even if the child consumes a lot of toothpaste, the most common issue it could cause is called fluorosis, which leads to the development of white spots on the teeth. This is the result of too much fluoride, but it is largely a cosmetic issue and doesn't impact the strength or functioning of the teeth.
This small risk is far, far outweighed by the documented reduction in cavities that children, teens, and adults experience when they brush with fluoridated toothpaste.
Breathe Easy
You can let your child drink as much tap water as they want, and while they're still young enough that you need to brush their teeth, just be sure to use the recommended amount of toothpaste (their dentist can let you know how much is best if you have questions). These two sources of fluoride actively protect the teeth, help with the development of adult teeth, and should overall give you one less thing to worry about, which all parents can appreciate!
About the Practice
Dr. James Forester is a board-certified pediatric dentist who received his Doctor of Dental Surgery degree from the University of the Pacific's Arthur A. Dugoni School of Dentistry in 2002. In 2006, he completed a postdoctoral program in Advanced Education in Pediatric Dentistry at St. Joseph's Hospital in Providence, Rhode Island. Alongside his colleague and fellow pediatric dentist, Dr. Natalie Vander Kam, the two work together to help children adopt good oral hygiene habits while educating families about the best practices. If you have any other questions about fluoride, visit our website or call (805) 592-2020 to talk with our team.
Comments Off on How Safe is Fluoride For Children Really?
No Comments
No comments yet.
RSS feed for comments on this post.
Sorry, the comment form is closed at this time.