April 21, 2018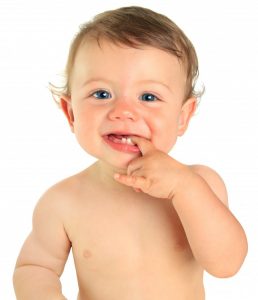 It's an exciting time when your baby's first teeth begin to arrive! They're starting to make more sounds and experiment with solid foods, but what you may not be prepared for is hearing your infant grind their teeth. Did you know that around 30% of children do grind their teeth? So it is actually fairly common. It can be loud and alarming, but is it harmful? Your pediatric dentist explains.
Why is my Baby Grinding Their Teeth?
Bruxism, or teeth grinding, is typically related to stress, misaligned teeth, missing teeth, or jaw joint problems in adults. None of these symptoms fit the bill for children, so what is causing your baby to grind their teeth?
Experts aren't completely sure, but they believe that it may have to do with soothing pain. It may help to soothe gums during teething, or an allergy or earache that is causing discomfort.
Another thought is that babies may be grinding their new teeth to get used to them. They may be testing out this new phenomenon in their mouths and learning how to use their teeth.
What are the Consequences of Your Baby Grinding Their Teeth?
The good news is that for an infant there don't seem to be many consequences to grinding their teeth, and they typically grow out of it.
If bruxism continues as your child gets older, you should let your pediatric dentist know so you can determine the root cause of the problem. Bruxism in older children may be a sign of anxiety, and could eventually lead to wear or damage of their teeth, or problems with their jaw joint.
Learn More From Your Pediatric Dentist
Your baby should begin to see their pediatric dentist soon after their first teeth arrive and no later than their first birthday. Then they will have routine appointments every six months.
These early and consistent visits help your pediatric dentist monitor their oral development, and it's also a great time to ask any questions or share any concerns you might have about your baby's oral health such as bruxism.
About Coastal Pediatric Dentistry
The first thing you'll notice at Coastal Pediatric Dentistry is Dr. James Forester's passion for children! The office is designed to be fun, upbeat, and welcoming for children so your child will look forward to their visits. All of your child's dental needs will be met in this safe and comfortable environment.
If you would like to contact Dr. Forester, he can be reached online through his website or by calling 805-592-2020.
No Comments »
No comments yet.
RSS feed for comments on this post.
Leave a comment