March 15, 2018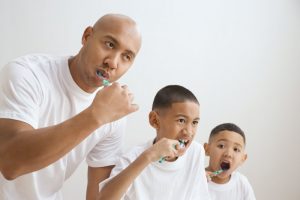 As with most things in life, the earlier your child begins to learn good habits for their oral health, the better. Parents often have many questions about their child's oral development such as: How early should I begin brushing my baby's teeth? When should their first visit to the pediatric dentist be? Why are baby teeth so important? Here we've compiled not only the answers to your questions, but also some helpful tips for building good habits early on.
Your Common Questions Answered
You should actually begin caring for your baby's oral health even before their first teeth arrive. Use a warm washcloth to wipe down their gums after feedings. This will remove any excess bacteria that is lingering in their mouth.
Begin brushing their teeth as soon as they arrive. Use a small, soft bristled brush that is designed for infants. You can also use a training toothpaste that is safe to swallow if you choose to. Brushing their teeth early on helps them get used to the process, which makes it easier as they get older.
Your baby should visit their pediatric dentist around the age of one year old. Early visits help them acclimate to the dental office and give the dentist an opportunity to evaluate their oral development.
Many parents wonder why it's so important to care for baby teeth. After all, they're just going to fall out, right? Well, baby teeth actually have very important jobs such as holding a place for incoming adult teeth, and helping your baby learn to eat solid foods and form their first words. Baby teeth lost too early can affect your child's oral development.
Helpful Tips for Parents
You can help your child develop good oral habits for a lifetime. Besides helping them brush and floss their teeth and taking them to the dentist, here are some other things you can do to make learning about oral health fun:
Lead by example. Let your child see you brushing and flossing your own teeth. And talk about why it's important with them.
Chart their progress. Create a fun chart to record their brushing and flossing throughout the week. If they are brushing twice each day and flossing at least once, offer a small reward.
Let them choose their tools. There are so many fun oral health care products on the market today for kids. Get your kids excited about brushing with a brush that sings or colorful toothpaste. Let them pick the tools that motivate them to brush their teeth.
If you have other questions or concerns about your little one's oral health, don't hesitate to contact your pediatric dentist today.
About the Author
Dr. James Forester has been caring for the children of San Luis Obispo County for over a decade. He has a passion for teaching children about their oral health while also making it fun to visit the dentist.
If you would like to contact Dr. Forester, he can be reached online through his website or by calling 805-592-2020.
No Comments »
No comments yet.
RSS feed for comments on this post.
Leave a comment