February 15, 2018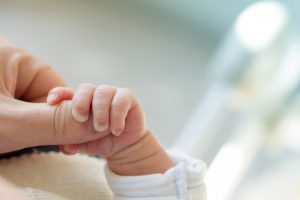 The arrival of your little one's teeth is an exciting time! Your child will soon be navigating solid foods and learning how to form sounds and words with the help of their new teeth. But how should you take care of these new teeth? Is there a right way to brush? Do you need to worry about brushing when baby teeth will fall out anyway? Your pediatric dentist has answers for you as well as a step-by-step guide on caring for your baby's first teeth.
Before the First Tooth Arrives
Believe it or not, you should be cleaning your baby's gums after meals and before bed even before their first teeth arrive. Use a warm wet washcloth to wipe around their gums, which will remove the bacteria that can cause issues for incoming baby teeth.
The First Tooth
When that first tooth makes its appearance you can begin to brush twice a day with a small soft bristle brush designed for infants. You may also consider using a very small amount of children's toothpaste. This is a good time to start thinking about scheduling your child's first dental appointment, which should typically be scheduled about 6 months after the first tooth erupts or around their first birthday.
Dr. can recommend what types of toothpaste are best for your child.
When They Can Brush on Their Own
In general, you will need to continue to supervise brushing and flossing your child's teeth until they have perfected their oral care routine, regardless of their age.
You should be helping your child brush their teeth until at least the age of six. It is not until approximately this age that children have developed the manual dexterity to be able to properly care for their own teeth. Before this age, involve your child in the brushing process! One way to do this for the child to brush on his/her own first and then have the parent brush, or vice versa.
Use a very small amount of toothpaste for younger children and encourage your child to spit out their toothpaste once they are 3 or 4 years old. While we do not encourage a child to swallow fluoride toothpaste, using children's fluoride toothpaste in very small doses can make the difference between a healthy smile and a cavity prone smile.
When to see the Pediatric Dentist
Your child should begin seeing their pediatric dentist at the age of one year old or six months after their first tooth erupts. At this appointment, your dentist will count your baby's teeth, clean their teeth with a soft brush, and monitor their oral development.
In the future, as they get old enough, and more comfortable at the dental office they will receive regular cleanings and x-rays.
Your pediatric dentist is your partner in caring for your baby's new teeth. Be sure to contact them at any time with any questions or concerns you have about your child's oral health or development.
About Coastal Pediatric Dentistry
Dr. James A. Forester is passionate about children's oral health. In fact, he's been providing progressive care in a fun environment to the children of San Luis Obispo County for over a decade. Children will find a warm and welcoming environment at Coastal Pediatric Dentistry that will make them feel safe and at ease right away.
If you would like to contact Coastal Pediatric Dentistry, we can be reached online through our website or by calling 805-592-2020.
No Comments »
No comments yet.
RSS feed for comments on this post.
Leave a comment