January 24, 2017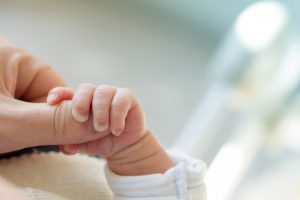 Having a baby is an exciting and joyful time! With so many new things to think about and remember, it may also feel a little overwhelming. Your baby's teeth are probably not at the top of your list of priorities; however, there are a few things you should be doing to ensure good oral health for your child, even before their first baby teeth arrive. Your pediatric dentist explains.
Before Baby Teeth Arrive
Did you know you should begin "brushing" before your baby's first teeth arrive? Not with a toothbrush, but instead with a warm cloth used to wipe away any plaque or bacteria from their gum tissue. This also starts to acclimate your child to the act of brushing, which should begin as soon as their first teeth come in.
How to Care for Baby Teeth
It's an exciting time when those first tiny teeth peek through your baby's gums! Now you should continue to wipe their gums and start brushing the new teeth with a soft brush designed for infants. You can use a toothpaste that is safe to swallow if you like, or you can also wait until your little one is a bit older to incorporate toothpaste.
When your baby reaches 12 months old, it's a good idea to schedule their first visit with your pediatric dentist. Early visits to the dentist help your child feel comfortable having their teeth examined and eventually cleaned, and also allows them to monitor your baby's oral development.
Why Are Baby Teeth Important?
Why do we take so much time caring for teeth that will eventually fall out? Because believe it or not, baby teeth are very important! They help your child learn to eat solid foods and form words to talk. Baby teeth also act as place holders and guides for the adult teeth that will arrive in a few years.
Keeping your little one's baby teeth clean and healthy sets them up for a lifetime of success at the dentist in the future.
If you have questions about your child's baby teeth or would like to schedule their first appointment, contact your pediatric dentist today.
About Coastal Pediatric Dentistry
Dr. James A. Forester is passionate about caring for children. As a father himself, he understands how important these first visits to the dentist are, and how they set your child up for success in the future. Children will feel right at home and enjoy the friendly and upbeat environment they find at Coastal Pediatric Dentistry.
If you would like to contact Dr. Forester, please call 805-592-2020, or reach him online through his website.
No Comments »
No comments yet.
RSS feed for comments on this post.
Leave a comment