December 15, 2016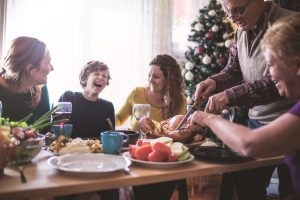 This time of year is when it's great to be a parent. You grew up fantasizing about Santa Claus, and before you know it, you are Santa Claus (it's OK, we won't tell). It's so fun to watch your kids get into the spirit of things and help decorate the house. It all pays off when they rush into the living room and their eyes go wide looking at the presents under the tree. It can also be easy to let their oral hygiene slide during the holidays. Now is when you're supposed to enjoy all the candies, cakes, pies, and other innumerable goodies that come with the cold weather. It's important to keep their teeth healthy, however, so here are a few seasonal tips from your pediatric dentist in San Luis Obispo.
The Basics
When it comes to taking care of your children's teeth, you know we're going to mention brushing and flossing. You and your children actually perform most of your own dental care, and it's with this daily routine. However, it can be easy, especially for children, to just go through the motions. Paying attention to a few little details can make all the difference when it comes to protecting their teeth.
They should brush for at least two minutes twice a day, once in the morning and once at night. Children usually do not brush long enough (and that's true for adults as well). A simple way to fix this is to set a timer using your phone or your watch (if you're one of the few people who still wears one). You can even make it a little more fun and play a song for the two minutes.
Make sure they are brushing every surface of every tooth. Kids typically miss large portions of their mouth, and unsurprisingly, those areas are often where tooth decay starts. Be sure that they are brushing all the way to their back teeth, both on the bottom and the top. You can end the whole routine with a giggle by having them brush their tongue, which is actually a great way to make sure they have fresh breath.
Flossing is just as essential as brushing, and they need to do it every time. It doesn't take too much force to floss, so your little ones should go about it with a gentle touch so they don't damage their gums in the process.
About Sweet Treats…
This is when the mean pediatric dentist in San Luis Obispo tells you to not have any sweets right? Not quite! Sweet treats are delicious, and you'd be silly to not enjoy things like chocolates, candy canes, and egg nog during the holidays. The key is just moderation. "Spread the holiday cheer" by spreading out your child's candy intake. A few treats a day is fine, but too many can really make them vulnerable to tooth decay.
A couple of easy tips is to not leave sweets out where they can reach them, and never let them eat candy while they are hungry. This will prevent them from snacking on it all day, or overindulging before they've had a healthy meal.
A Little More Help
Of course, we'd love to help you have a happy and healthy holiday season, so feel free to come by and see us so we can keep your family smiling into the new year. We love the holidays too, and are always willing to help you enjoy them more by keeping your smiles strong.
We're always ready to answer your questions when it comes to your teeth, so give us a call anytime. Happy Holidays from everyone at Coastal Pediatric Dentistry!
Comments Off on Holiday Tips with Your Pediatric Dentist in San Luis Obispo
No Comments
No comments yet.
RSS feed for comments on this post.
Sorry, the comment form is closed at this time.