January 17, 2017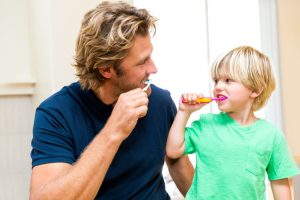 February is very special to us here at Coastal Pediatric Dentistry. While we love Valentine's Day, that's not the reason why. It's actually National Children's Dental Health Month, a time where parents and dentists alike take a little extra time talking about taking care of the Central Coast's littlest smiles. In that spirit, we're going to talk about how regular visits to their dentist not only helps your child's smile that day, but all the days after. By bringing your little one to see their pediatric dentist, you're taking a big step in helping them learn about why taking care of their teeth is so important.

Help Them Get a Good Start
Children often do very well when you give them a sturdy nudge in the right direction. This is no different when it comes to their dental care. Many parents think they are on their own when it comes to teaching their children how to brush their teeth, but what they may not know is that their greatest ally is their pediatric dentist. When you bring your child to see Dr. James Forester, you're not just getting their teeth cleaned, but also helping them get a strong start when it comes to dental care. This will help them have a positive connection to taking care of their teeth as well as going to the dentist, which will not only keep them healthier, but make it much easier for them to brush their teeth consistently. It will establish positive habits and set the groundwork for taking care of their health for their entire lifetime.
How Visits Help Beyond the Dentist's Chair
Whenever you bring your child in for a check-up and cleaning, you can trust that their teeth will be cleaned in a way they simply can't be at home. This will also give Dr. Forester the chance to catch any issues they might have early, making them much easier to treat.
However, these visits provide more than just what they get in the office. They give you, your child, and your dentist the chance to discuss their oral hygiene habits. Sometimes your dentist can say the exact same thing to your child that you have been for weeks, but it will stick with them better simply because the doctor is a different person, a kind of authority. Hearing someone besides their parents and teachers talk about the importance of cleaning their teeth every day can have a big effect on a child, and help you tremendously when it comes to establishing consistent habits.
Get Started Today
It's still early in the year, and not too late to set the New Year off on the right foot when it comes to your child's health. You'll be showing your child how important their dental health is, and help them get the right start to 2017. A visit now could be all they need for it to finally click that taking care of their teeth is an important, daily part of their lives.
If you have any questions about how to take care of your child's teeth, what to expect during their visit, or want to make an appointment, please give us a call today.
Comments Off on A Strong Start with Your Pediatric Dentist in San Luis Obispo
No Comments
No comments yet.
RSS feed for comments on this post.
Sorry, the comment form is closed at this time.