December 5, 2022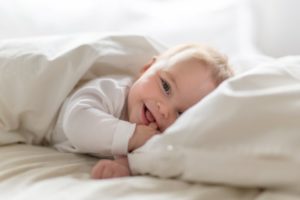 When your child is little, especially if they're still in infancy, the idea of them having to go through any kind of "procedure" can initially feel intimidating and scary. However, in the case of tongue-tie treatment, you don't have to be afraid of the procedure. In this post, you'll find an explanation of what you can expect before, during, and after a laser frenectomy—the procedure to resolve tongue ties.
Before Tongue-Tie Treatment
Not everyone has the same tongue-tie journey. Most of the time, tongue ties are identified during the child's infancy because of breastfeeding struggles; however, it is possible for a tongue tie to go undiscovered until later in life. Here are some things to look out for that could point to needing a frenectomy.
Common symptoms of a tongue tie in infants include the following:
Difficulty latching when nursing
Low weight gain
Increased fussiness
Sore nipples from the baby biting down
If your child is older and experiences the issues listed below, a tongue tie could be to blame:
Trouble eating solid foods
Mouth breathing
Speech impediments
In these situations, you should consult your pediatric dentist who can diagnose and resolve tongue ties in babies as young as just a few weeks old.
During Tongue-Tie Treatment
The frenectomy procedure itself is straightforward and fast, especially if your pediatric dentist uses a soft tissue laser. Basically, they sever the excess tissue with laser point precision. Unlike a scalpel or surgical scissors, the laser cauterizes as it cuts, minimizing the amount of bleeding and discomfort for the little patient. As a result, local anesthesia is often not even necessary in laser frenectomies, and the entire procedure can be carried out in a matter of just a few minutes.
After Tongue-Tie Treatment
Following a laser frenectomy, your baby gains better function almost immediately. In fact, you may nurse right after the procedure and notice improvement. In some cases, help from a lactation consultant or other therapist is needed to retrain mom and baby on proper nursing technique.
In the days after tongue-tie treatment, you will need to do some mild stretches to assure that the problem doesn't come back. The tissue could reattach, which is why it's important to follow your pediatric dentist's instructions.
In the end, a frenectomy can make a world of difference for a baby with a tongue tie and for you as a parent. Understanding why treatment is needed, what goes on, and how to take care of your baby afterward can help you feel more confident about moving forward with this procedure.
About the Practice
At Coastal Pediatric Dentistry in San Luis Obispo, we provide care for any patient under 18 years of age, including infants. We have equipped our practice with cutting-edge technology, like a soft tissue laser, so that can perform delicate and precise frenectomies. If you think your baby or child could have a tongue tie, don't hesitate to reach out to our team and schedule a consultation with Dr. Forester or Dr. Natalie by visiting this page or calling 805-592-2020.
Comments Off on Before, During, and After: What to Expect with Tongue-Tie Treatment
No Comments
No comments yet.
RSS feed for comments on this post.
Sorry, the comment form is closed at this time.