September 20, 2019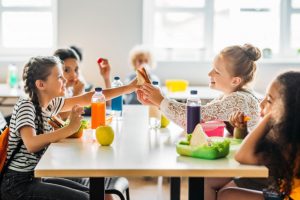 Summer is officially over, and a new school year has started. As a parent, you know what that means—packing your child's lunch every weekday. You try to choose foods that are healthy and will give them energy and focus during the day, but have you thought about foods that can help or hurt their teeth? You should! What your child eats, according to your children's dentist, can impact their smile and their ability to interact with others and learn. In fact, the Center for Disease Control and Prevention says that children with oral problems generally earn lower grades than those with good oral health. So, when you pack your child's lunch, make sure you choose mouth-friendly options, so that they can have a confident, healthy smile!
Foods to Avoid
Likely, the first cavity-causing food that pops into your mind is candy because of the high sugar content. Although candy consumption certainly should be limited, below are some surprising foods and drinks that can cause damage to your child's smile.
Sugary Snacks
In addition to candy, gummy fruit snacks, cookies, brownies, and other baked goods are loaded with sugar and facilitate plaque formation. This white, sticky substance allows bacteria to easily access your child's teeth and paves the way for decay. Always check the label on snacks to see just how much sugar and how many carbohydrates they have.
Sports and Energy Drinks
At first glance, these drinks seem like healthier alternatives to juice, except they are loaded with sugar. Instead of giving your child a sports or energy drink with their lunch, provide the best beverage for their teeth—water!
Dried Fruit
Although fruit generally is good for your child's body, the dried kind usually means a higher sugar concentration and a stickier texture because of the lower water content. Instead, choose fresh fruit alternatives for the maximum benefit.
Foods to Pack
Believe it or not, there are foods that actually benefit your child's oral health, and what's more, many of them are also good for your child's body. It's a win-win!
High-Fiber Foods
To keep your child feeling full, they need to consume enough healthy fiber. Luckily, fiber also helps their teeth because these foods tend to encourage saliva production, which washes away bacteria, food particles, and plaque. Fibrous fruits and vegetables include apples, pears, carrots, leafy greens, and broccoli.
Yogurt or Cheese
The calcium found in dairy products like yogurt and cheese fortifies tooth enamel. In many cases, you can place a container of yogurt in your child's lunch in the morning, and it will be thawed but still chilled by lunchtime, or you can pack a special cold pack to keep these items viable for lunch.
Water-Filled Fruits and Veggies
Some fruits and vegetables have higher concentrations of water and can therefore help flush food particles and bacteria out of your child's mouth. Some examples of these foods are cucumbers, watermelon, and pears.
To make sure that your child has the best chances of a successful school year, pack lunches that are simple, healthy, and mouth-friendly. And if your child is due for a dental checkup with the family dentist, take the time to get that appointment done. Seeing their confident, healthy, and radiant smile will be worth all your efforts.
About the Practice
At Coastal Pediatric Dentistry, Dr. James Forester and Dr. Kristine Fu offer high-quality pediatric care to children in the San Luis Obispo area and know how to help teach children to care for their smiles. With years of experience and advanced training individually, together our pediatric dentists can meet nearly any dental need that your child may have right here under one convenient roof. To schedule an appointment with them, click here or call (805) 592-2020.
No Comments »
No comments yet.
RSS feed for comments on this post.
Leave a comment