April 24, 2019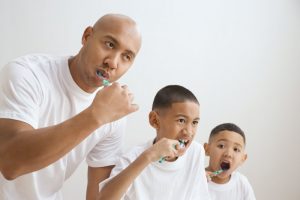 Getting children to cooperate can be challenging, especially when it comes to tasks like brushing or flossing their teeth. However, they are probably wizards when it comes to using your smartphone for games or apps they enjoy. Why not use those apps to your advantage and make visits to your family dentist more exciting? Here are some ideas to get you started!
Tooth Timers
There are a few great apps that can provide a timer to ensure that your son or daughter is achieving their full two minutes of brushing every day. Some of these fun apps have even been created by Disney! Try Brusheez Tooth Brushing Timer to make your child's two minutes fun, or  Brush DJ, which uses the music on your phone to pass the brushing time away.
Fun Toothy Games
Introduce your child to the idea of the dentist and their oral health with some fun games. Toothsavers is a fun brushing game where your little one can help save the fairytale kingdom by brushing away spells and helping the characters clean their teeth. This game also includes a timer for daily brushing and rewards that accumulate for brushing regularly each day.
How Will My Teeth Look?
What does a dental filling look like? Or teeth that have braces? An app called Virtual Dentist allows you to show your child what their teeth will look like during different types of dental treatment. Seeing what a healthy tooth looks like after a dental filling as opposed to one with tooth decay may help ease your child's mind about having a dental procedure.
Old Fashioned Tricks
You can also resort to books or coloring pages about the dentist to pique your child's interest and teach them about their dental health. A chart that hangs in the bathroom to track their daily efforts at brushing and flossing can also prove to be very motivating.
Need More Tips and Tricks?
Consistent visits to your family dentist are important, and your child should be visiting the dentist every six months just like you do. If you have questions or concerns about your son or daughter's dental health, your dental team is always available to answer them. They may also have additional suggestions on how to make your child's visits to the dentist easier and more comfortable. Contact your dentist today to learn more.
About the Author
Dr. James Forester and his team at Coastal Pediatric Dentistry love taking care of children! We offer the services needed to care for your child's precious smile from birth until they become adults. Making your son or daughter feel welcome and comfortable at the dentist is a primary goal for our team.
If you would like to contact Dr. Forester, he can be reached by calling (805) 592-2020 or online.
No Comments »
No comments yet.
RSS feed for comments on this post.
Leave a comment