February 18, 2019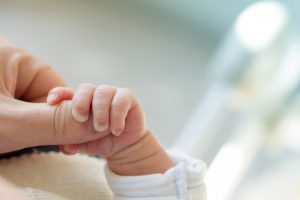 As a new parent, you are bombarded with information about how to take care of your new little one. Sometimes it can feel overwhelming! Their dental health is no exception, and you probably have a lot of questions about how to care for the little teeth that will soon be arriving. The good news is that your pediatric dentist has answers, and some of them may even surprise you!
When Should I Start Brushing My Baby's Teeth?
You might be shocked to learn that you should be cleaning your baby's mouth before their first teeth even arrive. This is because the bacteria from feedings can linger on their gums and it's important to remove it to keep their mouth healthy. Use a warm, wet wash cloth to clean their gums after feedings.
When their first teeth begin to arrive, you should start brushing them right away with a soft bristled brush designed for infants. You might also choose to use a toothpaste for babies that is safe to swallow. Brushing early on helps your son or daughter acclimate to the feeling of the toothbrush and the process of cleaning their teeth.
When Should My Baby First Visit the Dentist?
Their first visit to the dentist should take place around their first birthday, or six months after their first teeth come in. While this seems early, it helps your little one begin to feel comfortable at the dentist. It also gives your pediatric dentist a chance to start monitoring their oral development so they can make you aware of any concerns as early as possible.
Why Are Baby Teeth Important?
Many parents wonder if it's really necessary to give baby teeth so much attention when they're going to fall out in a few years anyway? The answer is – yes! Primary (baby) teeth have many important jobs to do before they leave such as:
Guiding adult teeth into place when they arrive
Helping your child learn speech patterns and first words
Holding space for adult teeth
Helping your child learn to enjoy solid foods
When baby teeth are lost too early, it can impact your son or daughter's oral development, so it's important to keep them clean and healthy.
Do You Have More Questions?
Caring for a new baby is an exciting time. Your pediatric dentist is always available if you should have any questions or concerns about your little one's dental health. Don't hesitate to call!
About Coastal Pediatric Dentistry
At Coastal Pediatric Dentistry, Dr. James Forester and his team love taking care of children! We know how important those first visits to the dentist are, so our goal is to help your child understand the importance of their oral health in a safe and fun environment.
If you would like to contact Dr. Forester, he can be reached by calling 805-592-2020 or through his website.
No Comments »
No comments yet.
RSS feed for comments on this post.
Leave a comment