November 11, 2017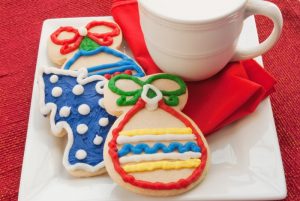 Christmas cookies, candy canes, and gingerbread houses are only a few of the traditional sweet treats that emerge around the holidays. While you won't be able to prevent your children from eating all of the goodies available to them, you can take some steps to protect their teeth and oral health during this tasty time of year. Your pediatric dentist has some ideas!
Limit Treats When Possible
Save the holiday treats for the parties and events during this time of year, and don't serve dessert at home during your regular family dinners. This way children can have fun and enjoy themselves, but they won't overindulge.
Focus on healthy meals at home, loaded with fruits and vegetables. Did you know that fruits and veggies actually help to prevent tooth decay by neutralizing the acids in your mouth, and increasing saliva flow? Have plenty of fruits and vegetables on hand for your kids to snack on during the holidays as well.
Consistent Brushing and Flossing
Making sure that your child is brushing at least twice per day and flossing at least once will help protect their teeth against the bacteria and plaque that causes tooth decay and cavities.
Having children brush 30 minutes or so after they enjoy sugary treats is also helpful in protecting their teeth. This allows time for saliva to wash away excess food debris and their mouth return to normal pH balance before brushing.
Visit Your Pediatric Dentist
Your child should be visiting their pediatric dentist every six months. These visits help monitor their oral health and development, while also protecting against tooth decay and other issues.
Your pediatric dentist may recommend additional services for your children such as fluoride treatment or dental sealants. Fluoride is a mineral that helps strengthen and protect small teeth, while dental sealants are a thin protective coating placed over the chewing surfaces of your child's teeth to defend against cavities.
Following this simple advice from your pediatric dentist should ensure that your holiday season is fun and enjoyable for your child, but also safe for their teeth and oral health.
About Coastal Pediatric Dentistry
Dr. James Forester is a fun-loving board certified Pediatric Dentist who has been taking care of children in San Luis Obispo, CA for over a decade. Kids feel comfortable and enjoy his upbeat and positive demeanor, and our goal is that they look forward to their dental visits.
If you would like to reach Coastal Pediatric Dentistry, you can call us at 805-592-2020 or contact us through our website.
No Comments »
No comments yet.
RSS feed for comments on this post.
Leave a comment